Quality web site design shouldn't have to break the bank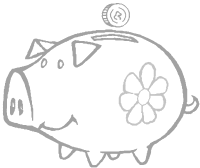 Tiny Queen Designs delivers high quality websites at reasonable prices. We will work closely with you to put together a website package to fit your needs and budget.
Each website project is unique, and the overall cost will vary depending on the complexity of the design and the scope of the project. Miva Merchant ecommerce sites will typically cost significantly more than simple brochure sites or WordPress customizations, and custom graphics can add to the cost of your design.
When you contact Tiny Queen Designs, we will ask you some questions to define the nature and scope of your project. From your feedback and choices, we can generate an initial estimate for your project. Tiny Queen Designs charges for all website development on an hourly basis at a rate of $75/hour, and the final cost will be based on the actual time invested in the project.
Since Tiny Queen Designs creates unique sites to your specifications, most new full scale web site design projects require a minimum of 15 to 20 hours of initial planning and layout. A deposit of a minimum of 50% of the project estimate is required prior to beginning work on all full scale projects.
Tiny Queen Designs is happy to provide a no-obligation estimate for your web site project.
Quick and easy invoice payments
Paying your invoice at Tiny Queen Designs is quick and easy. Simply enter your domain name and invoice amount, then click the button below to pay with your credit card or PayPal account.